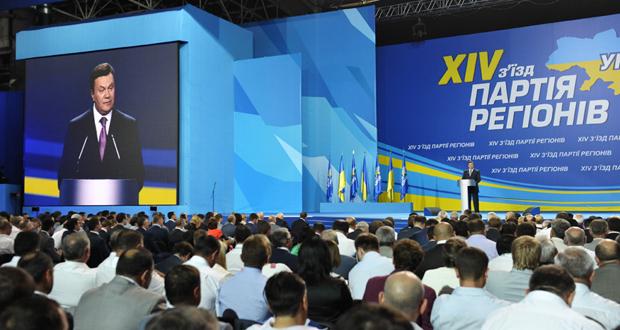 A Congress of the runaway president Viktor Yanukovych's Party of Regions in 2012. De-facto the party does not exist now. However, its members moved to other political forces which even now run for the Parliament. 
The Opposition Platform – For Life (Za Zhyttia) and the Opposition Bloc have the same roots. They are the legacy of the regime of runaway president Viktor Yanukovych. For the July 2019 parliamentary elections, however, they have run separately, and with dramatically different chances of success. The fact that both parties can exist on Ukraine's political landscape signals that the fight for a pro-western course in Ukraine is not over.
After the escape of disgraced ex-president Viktor Yanukovych in 2014, his Party of Regions acquired an indelibly tarnished reputation, even among former supporters. By the summer of 2014, some 1 million members had left.
Having held more than 41% of seats in the 2012 Parliament, the Party of Regions had zero chances for the snap elections in 2014 – no surprise that it didn't run at all. However, the void they left was not filled. Many people who hadn't supported the Euromaidan Revolution – most of them in the east – did not support those who took power after the revolution. Exacerbating the division, Russia ramped up its propaganda in the eastern regions, whitewashing their aggression in the Donbas.
This galvanized the opposition political forces, and their revenge strategy was put in place. A large part of the Party of Regions members funded the Party of Development of Ukraine. Five additional parties joined the movement and they united into a single body – the Opposition Bloc. Every subsequent candidate of this new party has been – to varying degrees – related to the former Yanukovych regime.
In 2014, the Opposition Bloc received 9.43% of votes. Media termed their union a "marriage of convenience," and the difficulties in communication between factions have been evident from their very inception.
A major issue is that the new party was comprised of three disparate groups. The first was highly influenced by the richest oligarch in Ukraine, Rinat Akhmetov. The group was called "Industrialists," after the main assets of the oligarch – industrial enterprises in eastern Ukraine. The second was centered around Serhiy Liovochkin, former head of the Yanukovych Administration; Dmytro Firtash, the oligarch whose main interest is gas fields; and Yuriy Boiko, former Minister of Energy. This group was called "Gasmen." The center of influence of the third, much smaller, group was the "Grey Cardinal," Viktor Medvedchuk.